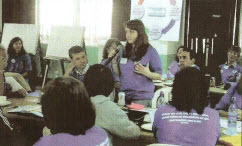 This is the introduction to an article by Jeff Fifield,  Curriculum Facilitator at Colegio Maya in Guatemala, which was published in NewsLinks:
Coming Together – Targeting Success was the title of Colegio Maya's (American International School of Guatemala) Strategic Planning Summit.

It captured well the objectives for the innovative and dynamic event to generate dialogue in bringing the learning community closer together to set future targets for school improvement.

Utilising an Appreciative Inquiry (AI) approach, which aligned to the school's culture, allowed the school's stakeholders to engage in a meaningful and energized experience to begin creating the shared vision for school improvement.

The truly magical mix included students, teachers, administrators, parents, Board Members, as well as former members of the school community.
To read more about this wonderful event, download the full article