A new resource is available for those working with classroom teachers and school leaders. Written by Bob & Megan Tschannen-Moran, Evocative Coaching: Transforming Schools One Conversation at a Time (Jossey-Bass, 2010), incorporates the principles of Appreciative Inquiry into the process of one-on-one coaching for personal and professional development.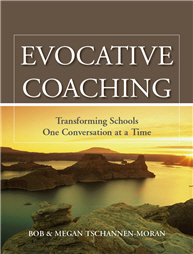 The Evocative Coaching model works with Story Listening, Expressing Empathy, Appreciative Inquiry, and Design Thinking to move educators beyond old ways of thinking, doing, and being. It inspires and invigorates educators with the passion for making schools better, one conversation at a time.
David Cooperrider had this to say about the book: "If you could choose only one inspiring and resource-filled book on coaching, what do you suppose it would be? For me the answer is right here. Evocative Coaching is a gem; it's something that should be read by anyone involved in a helping profession—and that's everyone!"
For more information about the book and the coach training program based upon the book, visit www.SchoolTransformation.com.
Bob Tschannen-Moran